Our Mission:
To reduce the impact of cancer on individuals and communities in Maine through collaboration and systems improvement.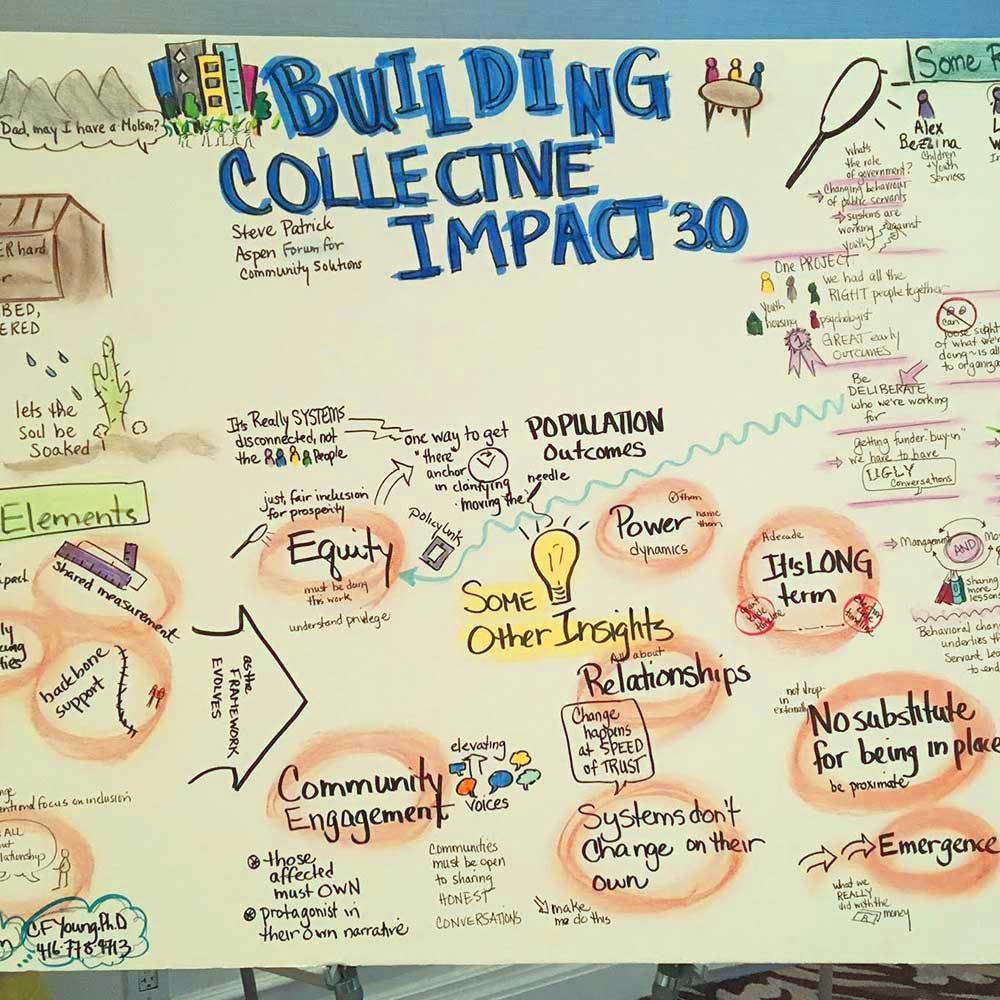 Our History:
In 2015, Maine Cancer Foundation (MCF) began to explore ways to strategically and collaboratively address cancer in Maine. MCF chose the collective impact framework as a way to bring people together from across the state with the goal of creating system-wide change and reducing the burden of cancer in Maine.
From this goal was born Maine's Impact Cancer Network (the Cancer Network,) led by a statewide, cross-sector steering committee called the Leadership Roundtable (LRT.) A Data Team of epidemiologists and researchers assists the Cancer Network with measurement and Maine Cancer Foundation provides funding and general support.
Our Process:
Maine's Impact Cancer Network uses the collective impact framework to organize and work toward its goal. Collective impact is a framework to bring people together to achieve systems change. It focuses on four sectors: lived experience with cancer, non-profits, businesses, and government. The framework encompasses 5 tenets:
COMMON AGENDA: a shared understanding of an issue and an agreed upon approach to solve it
SHARED MEMBERSHIP SYSTEM: a set of agreed upon indicators to determine if we are meeting our goals
MUTUALLY REINFORCING ACTIVITIES: the work organizations are already doing that contributes to the common agenda
CONTINUOUS COMMUNICATION: a way to stay informed, exchange ideas, learn from each other, and build relationships
BACKBONE: an organization or more that provide the resources and funding to keep the work going. Maine Cancer Foundation is currently serving in this role, but welcomes additional funders to help support this work
Beginning with MCF's Challenge Cancer Conference in 2016 and into spring of 2017, the Cancer Network held community conversations to learn more about Mainers' experiences with cancer. The conversations explored 3 questions:
What is happening with cancer in your life, community, or organization?
What is the change you would like to see with cancer in your life, community, or organization?
How can we work together to make this change happen?
The conversations and discussions with 670 Mainers across the state formed the basis for the Cancer Network's common agenda or shared vision for changing the landscape of cancer in Maine.The LRT and MCF staff created a final common agenda. Our common agenda's key themes are:
HEALTHCARE SYSTEM COLLABORATION: There is an overall desire to see health systems in Maine better collaborate with each other, including increasing collaboration between providers, sharing medical records, and working better with outside organizations. Non-profit organizations, resource centers, and public health organizations and coalitions need to increase collaboration with each other as well.
ACCESS: There is a need for increased access to transportation services, ride sharing capabilities, and free or reduced cost housing options near cancer care centers. At the same time, there is a call for more local care, patient navigators, and community health workers, and an increase in the number of people who are employed in the healthcare workforce.
EDUCATION ABOUT CANCER PREVENTION, DETECTION, AND TREATMENT: An increase in education related to cancer prevention, detection, and treatment needs to happen throughout the state. This increase in education must reach community members, patients, providers, the K-12 education system, and the business community. There is also a need to educate people about the current resources available both locally and regionally.
ADVOCACY: The cancer issues affecting Mainers need to be communicated to Maine legislators and government departments. This in turn should lead to changes in policy to support cancer prevention, detection, and treatment.
SURVIVORSHIP: Both youth and adult survivors need increased access to services, including palliative care throughout a diagnosis, support groups, guardianship supports, and assistance from employers when returning to work.
To learn more about the Cancer Network's path forward, read our Community Plan and learn what our Task Forces are working on.