As we prepare for our 11th Annual Tri for a Cure, we want to highlight our most generous sponsors who help make the Tri possible. The generous support of our sponsors covers the logistical costs of the event, so that every dollar raised by our participants goes to fund our programs that fight cancer in Maine. On behalf of all of the programs we fund and the people we help, we thank them!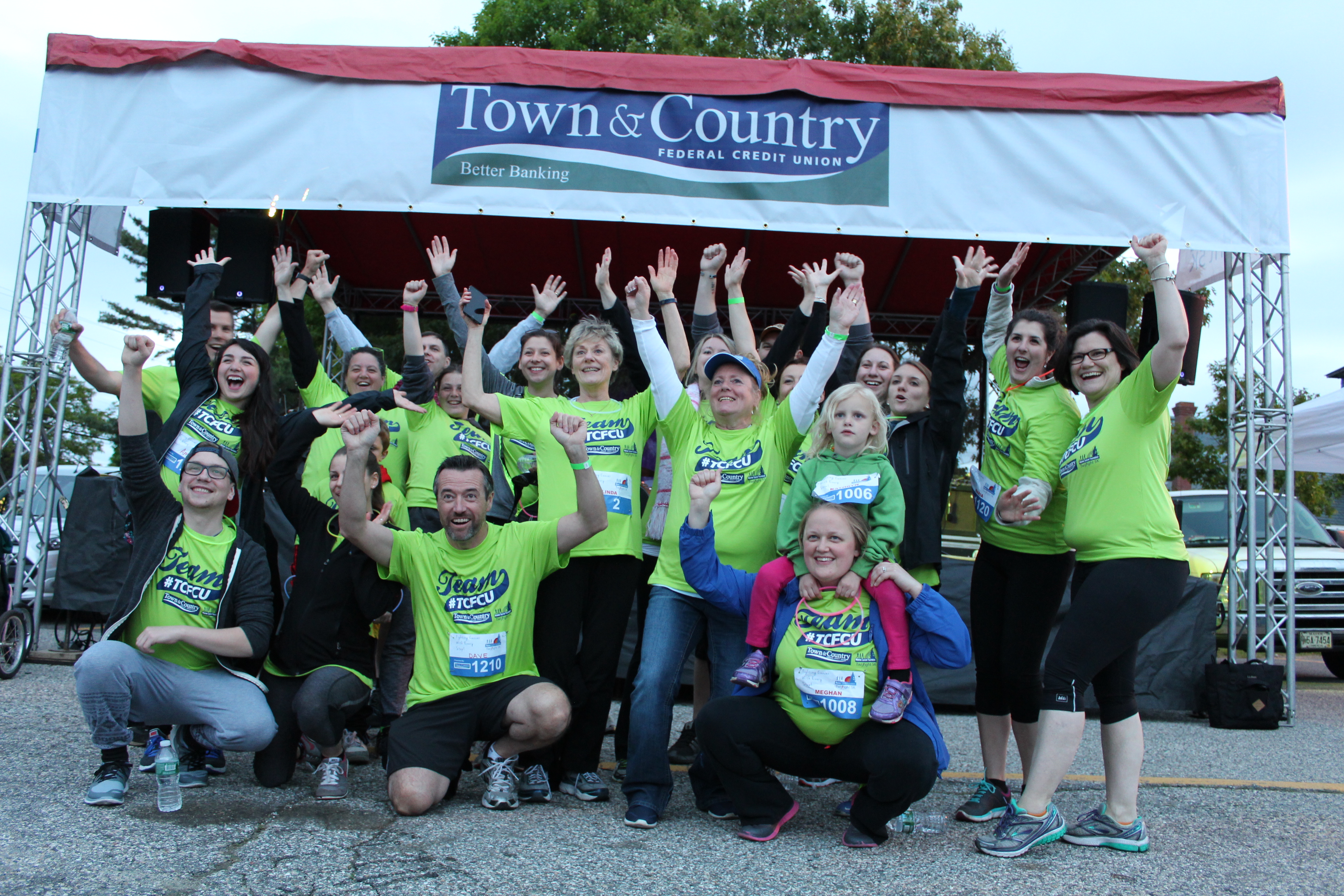 Town & Country Federal Credit Union began their involvement with Maine Cancer Foundation in 2008, when John, a beloved branch manager, was diagnosed with lung cancer. His courage and tenacity during his treatment was an inspiration to their entire team, and they sought a way to honor him and his courage. What started as an employee group joining Mary's Walk in Saco in 2009 has evolved into one of MCF's most generous and committed sponsor relationships, with Town & Country donating more than $200,000 in support of MCF's 3 signature fundraisers: Mary's Walk and Kerrymen Pub 5K, the Twilight 5K, and the Tri for a Cure.
Town & Country does not just donate money to support MCF – their employees have rallied behind their support and many have become deeply committed to our events and our mission.
"Each year the number of people who swim, bike and run varies, but for the past eight years, we have always had several staff inspired to put together a team or take on all three legs of the Tri on their own, and always find team members volunteering as well," according to President and CEO David Libby who has served on the MCF Board of Directors for 6 years.
In 2017, a record 13 staffers participated in the Tri, raising nearly $15,000. Factoring in the other employees who volunteer, nearly 20% of their staff supported the 10th Annual Tri. One employee, Dorna Girardin has volunteered in 9 of the 10 Tri for a Cure events and will be helping us again this July!
Town & Country recognizes that the financial impact of a cancer diagnosis can be devastating for cancer patients and cancer survivors.
People dealing with cancer may not be able to work and lose wages. Income can be reduced to 60% while someone is out of work (on disability), and families can lose wages when taking a patient to treatment.
They may fall behind on their bills and rely on credit cards to make ends meet, sometimes leading to increased debt and even bankruptcy.
They incur unexpected expenses due to the illness such as uncovered medical and insurance costs, medical supplies (including wigs), travel expenses (gas and hotels) for treatments, and even babysitting. Exercise, massage, yoga, and healthy eating are all important to the healing process but can be expensive.
For those individuals who have limited or no insurance, the financial impact can be even more devastating. Many people do not have emergency savings in place to deal with financial impact from illness.
As a credit union, Town & Country is committed to the principal of people-helping-people, working with members across Southern Maine every day to achieve financial health and reach their personal financial goals. Helping to improve the financial literacy of members and others in the community is central to what they do, including their Money Conference on May 5th to address people's questions about a range of financial topics and help empower people to take control of their money to live the lives they want. They work with the underserved including people in recovery and those relying on the services of a food pantry to help them get back on their feet financially. In addition, they offer paid time off for employees to have necessary cancer screening tests, including colonoscopies. They share information with employees about cancer prevention and include screenings for skin cancer during their annual benefits fair.
"Businesses have a responsibility to take a leadership role in the fight against cancer in Maine," says Libby. "Our state has one of the highest incidences of cancer per capita of any state in the USA. It is important as an employer and an organization serving the community to do what we can to raise awareness about cancer prevention and encourage people to have appropriate cancer screenings as part of their ongoing health maintenance."