Employee Spotlight:
Tricia Jamiol
Administrative Associate
---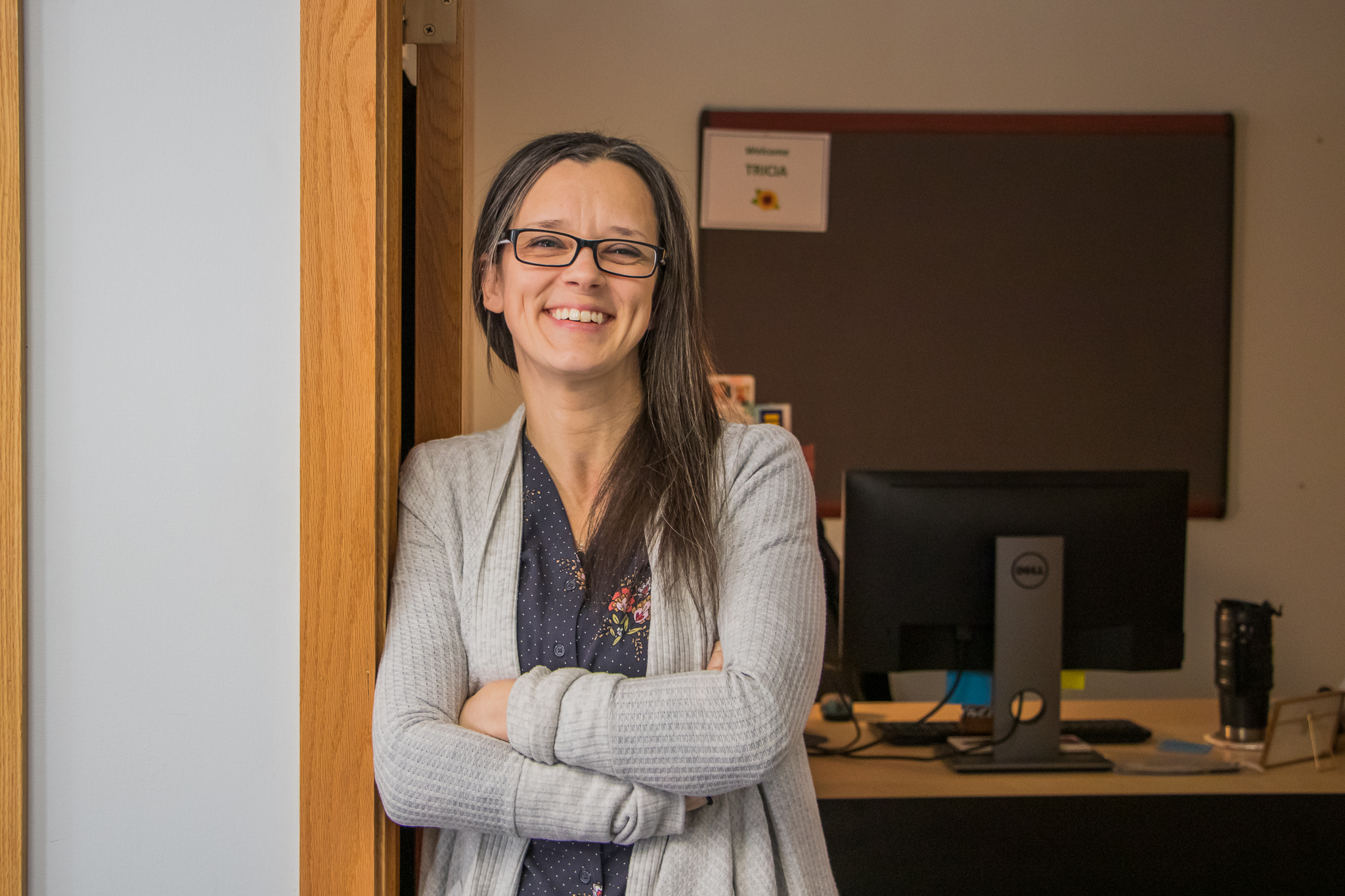 ---
Meet Maine Cancer Foundation's newest team member, Tricia Jamiol! As our Administrative Associate, Tricia assists in the management of our Request for Proposals process, active grant maintenance, and grantee communication. Since joining our team in July, she has warmed the office with her sense of humor, stories of roller derby, and pleasant office decor.
---
How long have you been with MCF?
I'm MCF's newest recruit: I've been here for 8 months.
Tell us about your role within MCF?
My role as the Administrative Associate is to support Katelyn, our Director of Programming, in all things related to our grantmaking program.
What did your career path look like before joining Maine Cancer Foundation?
I have a Master of Social Work degree and in a previous life was a child therapist. I volunteered for 14 years at the Center for Grieving Children as a grief facilitator and also owned my own photography business for 8 years where I specialized in weddings. As a true millennial, my path to MCF included some twists and turns, but ultimately everything stemmed in making connections with people and gravitating toward mission-driven work.
What does an average work week look like for you?
Every week is different, which I love, but it always includes grantmaking-related tasks. I have helped review applications and prepare contracts, sent out congratulatory emails to grantees and routinely organize anything I can get my hands on.
What motivates you to get up and go to work every morning?
Knowing that I work at a mission-driven organization with a team of dedicated, enthusiastic and amazing co-workers is what makes me excited to go to work. My motivation also stems from the knowledge that 100% of the funds we raise are invested back into our communities to benefit the people of Maine. I feel very lucky to be at MCF.
What do you like most about working at MCF?
I have two things that I like most about my job: The first is connecting with grantees and hearing about the amazing work they're doing every day to fight cancer across the state. I feel immensely grateful that I am a part of a foundation that can fund such important work. Being able to hear how impactful it is for organizations working to fight cancer is literally the best.
The second is the team at MCF. I feel so lucky to be working with such a hardworking, fun and passionate group of people where the dedication to MCF's mission is evident every day.
What is your proudest moment at MCF?
I'm still new here, so I think my proudest moment was really when I got the phone call letting me know that I got this job. During my interview process I realized pretty quickly that MCF was a special place and that I wanted to be a part of it. Whenever my friends and family ask about how things at work are going I'm always telling them how much I love it! 
How do you define success?
Not giving up, no matter how difficult or impossible a task or situation may seem. Success doesn't necessarily mean you've successfully done a thing, it means that you tried to do a thing that seemed hard/impossible/scary.
What do you feel is essential to success in the nonprofit sector?
Keep your mission in mind and truly live and breathe it.
What's one thing that surprised you about working at MCF?
How much a team of 6 (now 7, including me) is able to conquer on a daily, monthly, and yearly basis.
For Fun!
Best piece of advice you've ever been given?
Embrace being comfortable with being uncomfortable. Living with this advice in mind has resulted in me trying new and different things that I probably wouldn't have in the past. It has led to personal growth time and time again.
Do you have any pets? What kind?
Yes, a husky/Am staff/lab mix named Maisy and two grumpy cats.
Where did you grow up?
I'm a true city girl as I was born and raised in Cambridge, MA.
Where did you go/what did you study in college?
I went to UNE and graduated as a psychology major with a minor in art. I attended Boston University for my Master of Social Work.
One item you can't live without?
My hair straightener!
What was your first job?
I worked at a hardware store/garden center when I was 15. My first "adult" job was at a psychiatric hospital as a community residence counselor.
Favorite place in Maine?
Kettle Cove because it's where my wife and I got married.
Top played Spotify artist?
Brandi Carlile, hands down. I've seen them live more times than I'd care to admit.
Last book you read?
Untamed by Glennon Doyle.
Favorite hobby?
While I've had many hobbies in the past, roller derby takes the cake. I skate with Maine Roller Derby and am both terrified by it and love it at the same time.
What is something you want to learn how to do?
I'd really like to learn how to blow glass, as my grandfather was Harvard University's glass blower for many, many years. It's something I've always wanted to try.
Favorite place you've ever traveled?
St. Maarten… So beautiful and warm! The plane spotting at Maho beach was pretty incredible.
If you could only eat at one restaurant for the rest of your life, which would you choose?
Empire Chinese Kitchen… I. Love. It.
What sports team do you cheer on the loudest?
Maine Roller Derby's Ship Wreckers!
What is your most used emoji?
🍇… Which seems weird, but it's how my wife and I tell each over we've arrived at a destination safely.