Employee Spotlight:
Ray Ruby
Director of Development
---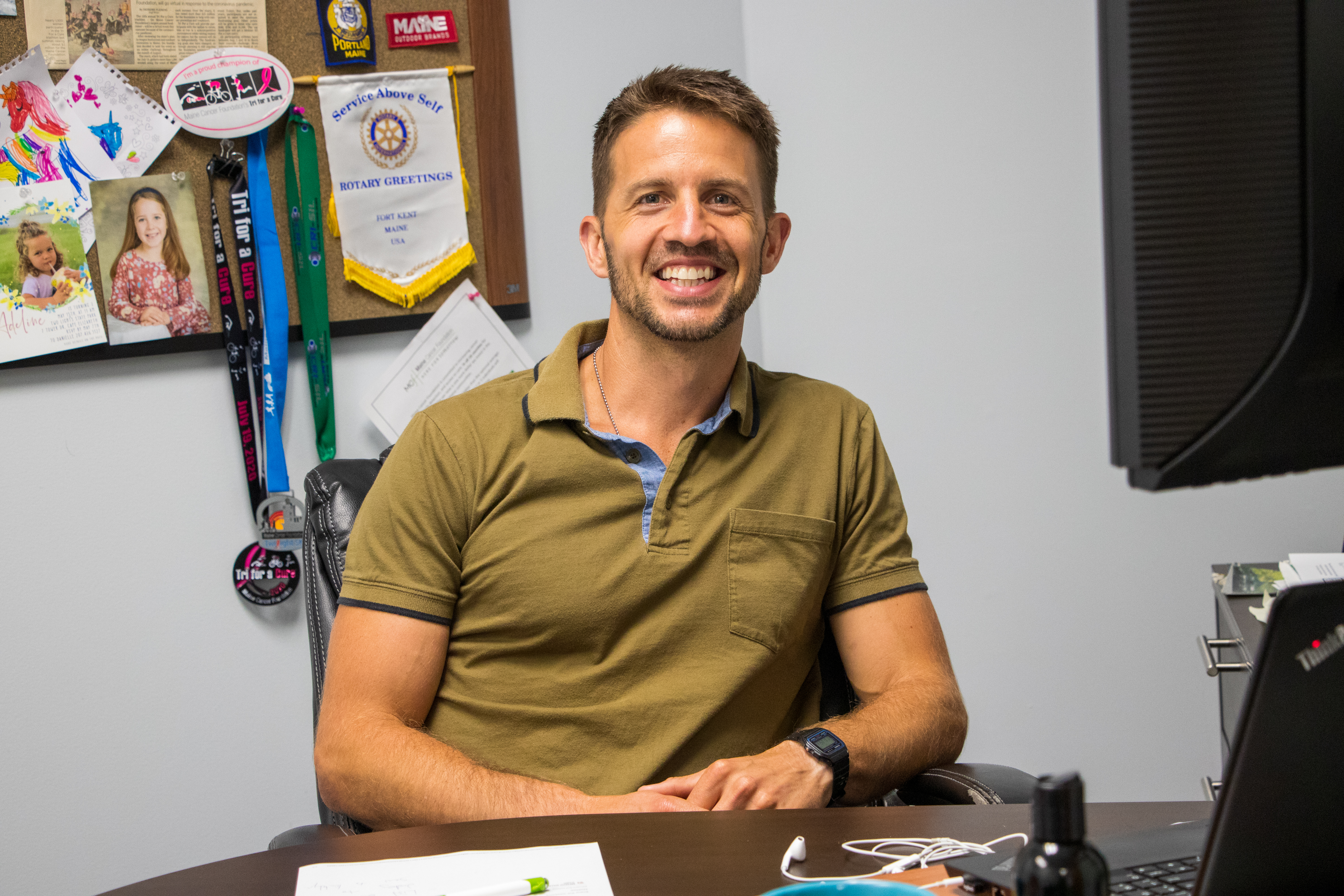 ---
Ray Ruby has been with Maine Cancer Foundation since 2018. Ray's dedication to the Maine community started as a Portland Police officer, where he served for 7 years (2005-2012); earning officer of the year in 2011. As MCF's Director of Development, Ray is still active around town. Although he's now just as easily found in Aroostook County as he is in Cumberland. An avid outdoorsman and studying to become a registered Maine guide, it's not uncommon for Ray to forgo a hotel room for his tent while on the road for Maine Cancer Foundation.
---
Q&A with Ray!
Tell us about your role within MCF?
I was brought on to be a "state-wide" ambassador for the organization. 
What did your career path look like before joining Maine Cancer Foundation?
My career path looks more like a switch-back trail. First starting as a police officer in 2005, then into non-profit operations and now development. 
What does an average work week look like for you?
I'm in and out of the office a lot so it really depends on meetings and events for that week. 
What motivates you to get up and go to work every morning?
To exercise before my kids wake up. I try to start the day with something to keep my mind fresh and my body healthy. 
What do you like most about working at MCF? Do you have any favorite memories?
I love that we serve the whole state. One of my favorite memories was before giving a presentation in Old Town, I had spent the previous night camping in Dover-Foxcroft. I had meetings there the day before and ended up tenting out in a monster storm. When I told the group that I had slept outside, they couldn't believe it because they said their pets wouldn't even go outside in it. A woman held my arm that night through the buffet line and they couldn't have been more welcoming. No solicitation was made but that group still makes a large donation every year since then. 
What is your proudest moment at MCF?
Spending time in all 16 counties in my first year. 
What projects are you currently excited about?
The development of Maine's Cancer Blueprint. 
As the Director of Development, what do you find most challenging and most rewarding in carrying out the MCF mission?
As a fundraising foundation, there is a lot of pressure to raise the funds needed to do the work. But when you believe in your mission, that is the motivation to keep doing the work and always push to do more. 
In one sentence, how would you explain your job to a 5-year-old?
I have a 5-year-old and it's really hard to, so I just tell her that I used to be a cop. 
How do you define success?
One outcome would be enough; I just want people to walk away feeling better than the way they walked up to me. 
What is the most important thing that Mainers should know about MCF?
This is THEIR foundation. We are here for every community in Maine. 
What do you feel is essential to success in the nonprofit sector?
Transparency should be at the top of everyone's list. Make sure people know the ingredients to your mission's recipe. 
What's one thing that surprised you about working at MCF?
The Tri for a Cure. I knew it was a great event but I was never prepared for the magic of being there for race weekend. 
For fun!
Best show you watched this year?
I just watch the Patriots. 
Where did you go/what did you study in college?
Saint Joseph's College of Maine, Criminal Justice. 
What was your first job?
Delivering newspapers. I still have the Sunday telegram sent to the house. 
Favorite place in Maine?
Like takeout food, it depends on what I'm in the mood for. But if there is one place I could teleport to from now and then, it would be the Allagash Wilderness Waterway.  
Top played Spotify artist?
It's a whole lot Luke Combs at the moment. 
Last book you read?
Finding Freedom: A Cook's Story; Remaking a Life from Scratch
Favorite hobby?
Hiking, camping and spending time outdoors with my family, all over Maine. 
Which actor/actress would play you in a movie about yourself?
Patrick Dempsey. 
If you could be any animal, which would you choose?
Our French bulldog, Calvin has a pretty good life. 
Who inspires you or who is your hero?
No heroes, but I'm inspired every day by everyday people. 
If you could only eat at one restaurant for the rest of your life, which would you choose?
Local Press. 
If you could meet anyone, living or dead, who would you meet?
I'd like to go hiking with Grandma Gatewood. 
What three traits define you?
Relentless, high-energy and hopefully kind. 
What sports team do you cheer on the loudest?
My fantasy football team. 
Fill in the blank: If you really knew me, you'd know ______.
I'll get the next round. 
Favorite quote?
"If you can't carry it on your back or in your heart, you probably don't need it."