Employee Spotlight:
Katelyn Michaud
Director of Grantmaking
---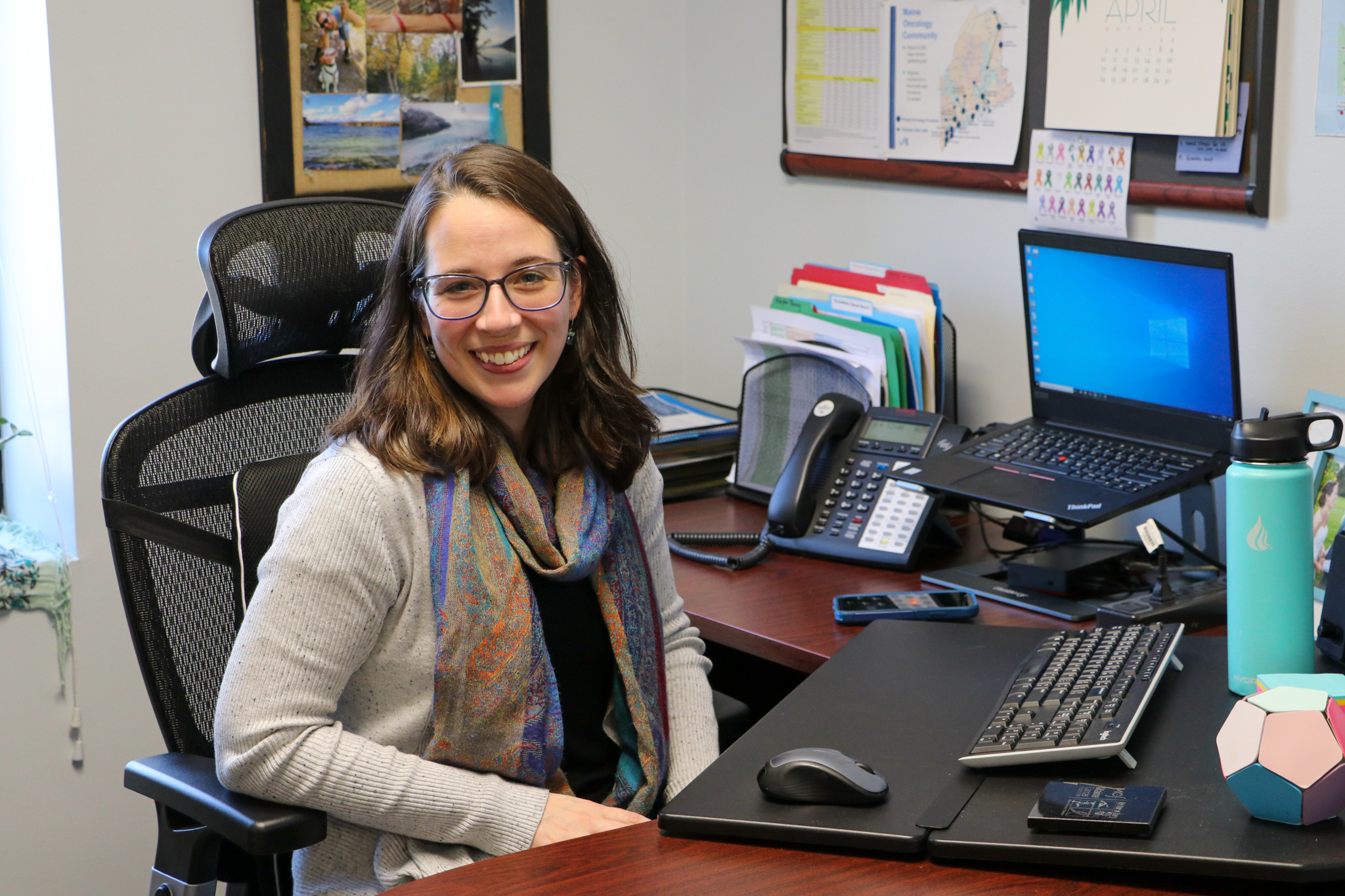 ---
Katelyn Michaud's desire to make a difference has guided her career in the nonprofit sector. As a member of the MCF team since 2014, Katelyn has a strong understanding of the cancer landscape in Maine. Now serving as the Director of Grantmaking, Katelyn is in charge of finding the best possible investments for Maine Cancer Foundation's funds. 
Q&A with Katelyn!
Tell us about your role, how long have you been with MCF?
7 years. As the director of grantmaking, I am responsible for administering MCF's grantmaking program. This includes everything from developing our annual strategy in partnership with the board and the staff, building relationships with partners statewide, and identifying investment opportunities to fundamentals of the program, like managing our grantmaking software, working with applicants, overseeing our grants budget, convening review committees, and offering technical assistance to funded programs.
When I first started in 2014, the executive director was conducting the vast majority of MCF's grantmaking. To see MCF's grantmaking program grow and develop over the last seven years has been a pleasure! We have about 75 open grants currently, and award about 40 grants annually.
As the Director of Grantmaking, what do you find most challenging and most rewarding in carrying out the MCF mission?
As a fundraising foundation, MCF is in a similar position to our grantee partners in that we have to raise all the funds we need to conduct our programming. I wouldn't say it's a necessarily challenge (and we have INCREDIBLY talented staff raising funds!), but it certainly puts us in a unique position as a foundation that also distributes grants.
Knowing I can be an approachable and easily accessible point of contact for MCF's grantmaking has been really rewarding. I try to put this out there as much as possible: we want to hear from our partners. We want to talk about project ideas, read draft applications, and help support applicants as much as we can. Applicants have responded well to this support, and it's become a foundational part of the way we do our work.
What did your career path look like before joining Maine Cancer Foundation?
I took a winding path to end up in philanthropy at MCF. I started out in development, focused on grant writing and donor engagement, while at a small literature-based nonprofit in New Jersey. After moving back to New England in 2012, I focused on communications and website management, as well as direct-service work at a youth engagement and leadership program in Portland.
Having past experience on the grant-seeking side of things has helped inform my job at MCF. I remember what it was like to work with funders that were really approachable and understanding, as well as funders who tended to be more rigid. At MCF, my goal is to be available to applicants and grantees throughout the whole grant process, and to be as transparent as possible about our grants program.
What does an average work week look like for you?
An average week would be a mix between high level determinations of how MCF will invest its grant dollars and immediate needs of administering the grants program. On any given day I could be connecting with partners throughout the state doing innovative important cancer programming; publishing a public Request for Proposals; troubleshooting an online application; convening a grant review committee; or reading draft applications. This role has to have a significant attention to detail, while also keeping the big picture in sight and at the forefront. It's a lot of variation and no two days are the same!
What motivates you to get up and go to work every morning?
#1. The mission. I lost my dad to cancer when he was 56 years old, in 2013. Knowing that I can make even a small difference in a cancer patient's life, or help prevent someone from ever getting cancer, encourages me to put my best foot forward everyday here at MCF.
#2. Connecting with partners statewide. Maine is an amazing state with so many vibrant communities. The fact that I get to work with so many people from all over Maine on a daily basis never gets old. And when I have the chance to get on the road and visit folks around the state… that's a big bonus.
What do you like most about working at MCF?
Working with kind and dedicated coworkers. Going to work every day with people who care about what they do, and care about the people they work with is the best!
What is your proudest moment at MCF?
It's hard to pick one moment, so I'll pick a number of smaller moments. To see a project go from an idea and a conversation, to an application, to a grant award, to a completed and successful project that created change and helped reduce caner in our state… it's pretty special to be part of that journey many times throughout the year.
What is the most important thing that Mainers should know about MCF?
We are 100% Maine, dedicated to helping people all over the state.
What's one thing that surprised you about working at MCF?
How much gets accomplished by a small, dedicated staff. It's really impressive!
For fun!
Do you have any pets? What kind?
Two orange kitties, Bella and Butters, who were rescued from the Newark Airport and Molly, a sweet terrier mutt from San Antonio.
If you could add one thing to the MCF office, what would it be?
A fireplace! My end of the office tends to be a bit of an igloo in the winter.
Best show you watched this year?
Righteous Gemstones
Where did you grow up?
Center Harbor, NH
Where did you go to college? What did you study?
Rutgers University, English and Women's and Gender Studies
One item you can't live without?
Chapstick
What was your first job?
Clerk at an independent bookstore – shout out to Bayswater Books!
Favorite place in Maine?
How do I pick a favorite? If I have to choose, I'd say the Travelers Loop in Baxter State Park or my family's favorite campsite at Rangeley State Park
Favorite hobby?
Is going to concerts a hobby? Seeing live music might be my favorite pastime.
Favorite place you've ever traveled?
Aruba
What's your most used emoji?
😍. I get a lot of kid and pet photos, what can I say?